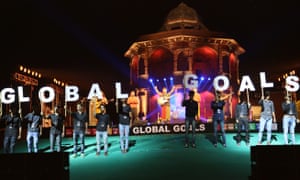 It's important to have goals (I'm sure that's what life coaches say). But even if you're laidback about your own prospects there is no reason to lack ambition for the planet and humanity.
Please share this story to help make positive knowledge grow
On the face of it the 17 Global Goals (also called Sustainable Development Goals) ratified by the UN and adopted by all countries in 2015 are moon-shootingly ambitious. They aim to "end poverty, protect the planet and ensure prosperity for all" by 2030.
Unlike anything we've experienced before they are owned by all countries and all people. Working towards the goals, industries have to increase their investment in poor countries, and governments are tasked with tackling persistent issues including poverty and climate change.
If you want to gently get to grips with the 17, Richard Curtis has made a series of short films for project-everyone.org explaining each of them.
Naturally, they didn't just happen; they were heavily designed by committee – 193 countries came up with 169 targets. But I don't think we should be scared off by complexity. The point is they distil, frame and divide up responsibilities between governments, corporations and civil society.
This backdrop is crucial during these famously tricky times. Two respected recent studies show that even if America delays addressing climate change domestically (thanks to Trump's anti-environmental stance) over four to eight years, it will not be enough to push the globe to the point of no return.
However, if other countries emulate Trump and fail to uphold climate protection then we're plunged into the abyss.
That's another reason why goals like these are important right now; they keep humanity on track.
SOURCE: THE GUARDIAN
0